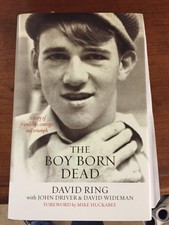 By David Ring with John Driver & David Wideman
Life is full of obstacles and being born dead is unthinkable. That's how David Ring's life began in Arkansas in 1953. David's lifeless body is placed aside for eighteen minutes while the doctor attends to his mother who is near death after his birth. Miraculously, David survives but not without serious consequences.
As a teen, David faces the loss of his beloved mother and his world is shattered. He is bounced between relatives and doesn't really fit in anywhere. He is angry, rude and unapproachable. He faces bullying at school and horrendous abuse at home, enough to lead him to try suicide.
The local pastor encourages his son to befriend David and he tries - but how do you make friends with someone who won't even speak? This struggling friendship starts a journey that is remarkable and extraordinary.
~ Dixie